The JDog leadership team is comprised of individuals who live by the values of Respect, Integrity, and Trust. Learn about the unique assets and backgrounds they bring to the JDog brand and how they support our franchise business owners.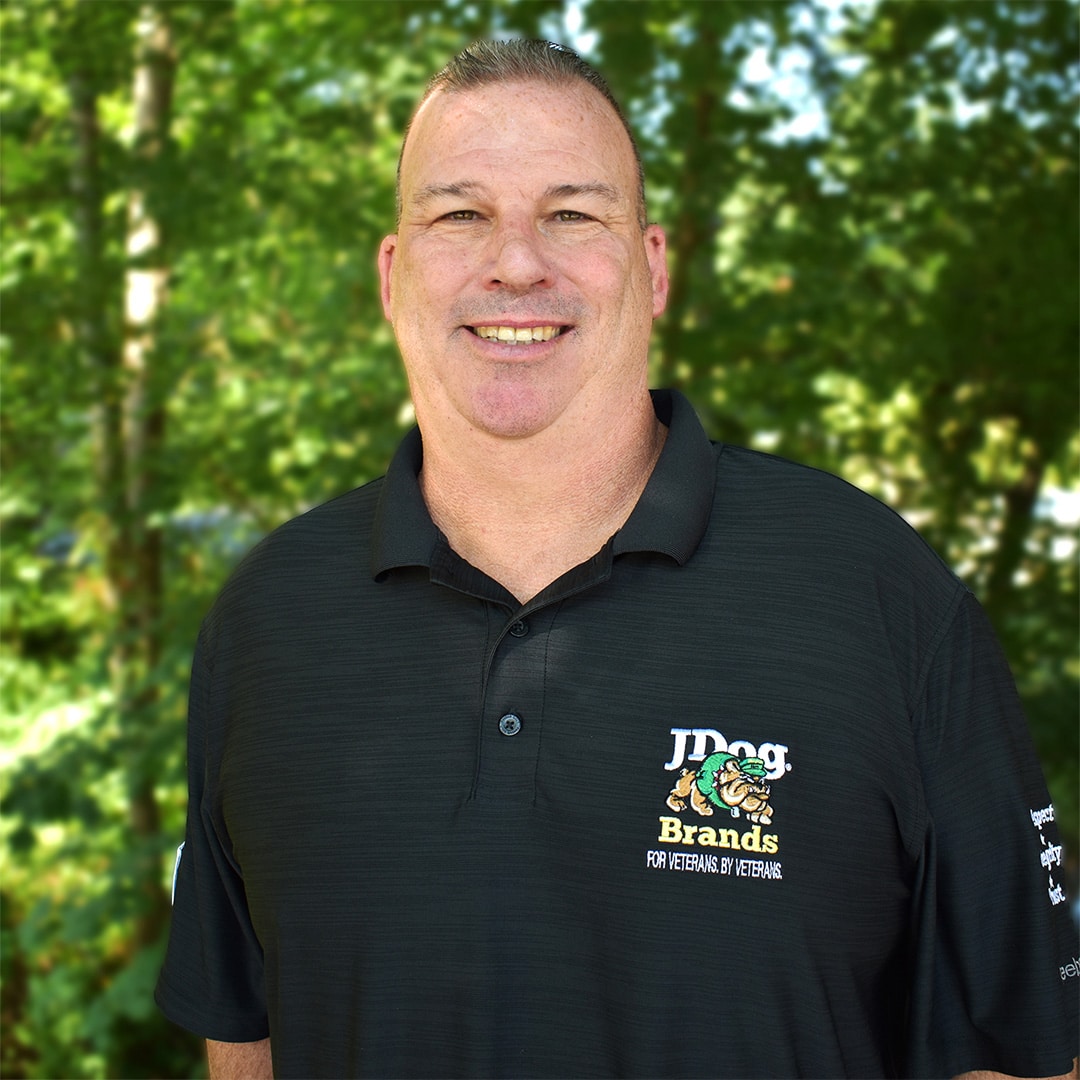 Jerry Flanagan
President, CEO, Co-Founder – JDog Brands
Jerry is an Army Veteran and entrepreneur who, along with his wife Tracy, have created a national Veteran brand dedicated to empowering Veterans through entrepreneurship. Rooted in the military values of respect, integrity, and trust, the JDog Junk Removal franchise system has become a nationwide movement, creating business and employment opportunities for Veterans and Veteran family members.
Jerry launched the first JDog Junk Removal franchise in 2011. It was a two-person operation – Jerry hauled junk and Tracy managed the back office. As a Veteran, Jerry gained trust and credibility with customers quickly, and referrals came easy. Within a year, he had more business than one person could handle and began hiring local Veterans who embodied the brand's values.
Through Jerry's vision and leadership, JDog Junk Removal has since grown to more than 500 territories with 200 active locations, 90 percent of which are Veteran owned. To date, the company has created more than 1,000 job opportunities across the United States.
Jerry served in the Army from 1987 to 1989 and finished at the top of his class. He was awarded the Army Achievement Medal.
Since transitioning back to the civilian world, Jerry has committed himself to helping Veterans be successful in business. He teaches an entrepreneurial boot camp for Veterans at St. Joseph's University, and at Boots to Business for Veterans, an entrepreneurial program offered through the U.S. Small Business Administration. He's a member of the West Point Society of Philadelphia, the International Franchise Association, and VETFRAN, which provides access and opportunities in franchising to Veterans and their spouses.
Jerry also founded the JDog Foundation, which donates scholarship funds to military branches.
For his contributions to the Veteran community, Jerry has been awarded the 2016 Vetrepreneur of the Year award from the National Veteran-Owned Business Association and the 2016 Man of the Year award from Philly/Jersey Man Magazine.
Jerry is also a board member at JD Investment Company.
Tracy Flanagan
Vice President and Co-Founder – JDog Brands
Tracy co-founded JDog with her husband, Jerry, and has spent the last seven years helping to grow the business into a national Veteran brand. She leads the company's workforce development initiatives, including a strategic relationship with the Veteran Administration's Compensated Work Therapy Program. Through these programs, Tracy connects JDog Junk Removal franchise owners with resources to grow their workforce and support other Veterans seeking job opportunities as they transition back to the civilian world. She also leads the JDog training program on culture and customer service, ensuring the values of respect, integrity, and trust are ingrained within every JDog Junk Removal franchise and franchise owner.
As a Veteran spouse and family member, Tracy is a valuable and trusted mentor to the JDog Junk Removal spouses. She founded and heads up JDog Spouses, a support community that provides advice, resources, and other ways to balance family while growing a JDog Junk Removal business.
Tracy is also a sought-after speaker on the topics of Veteran entrepreneurship, women's entrepreneurship, and Veteran hiring and employment.
Tracy is the founder and choreographer of Divine Dance Ensemble, a liturgical dance group that performs in church and community events. She also serves as Co-Chair of the Worship Committee at Trinity Presbyterian Church in Berwyn.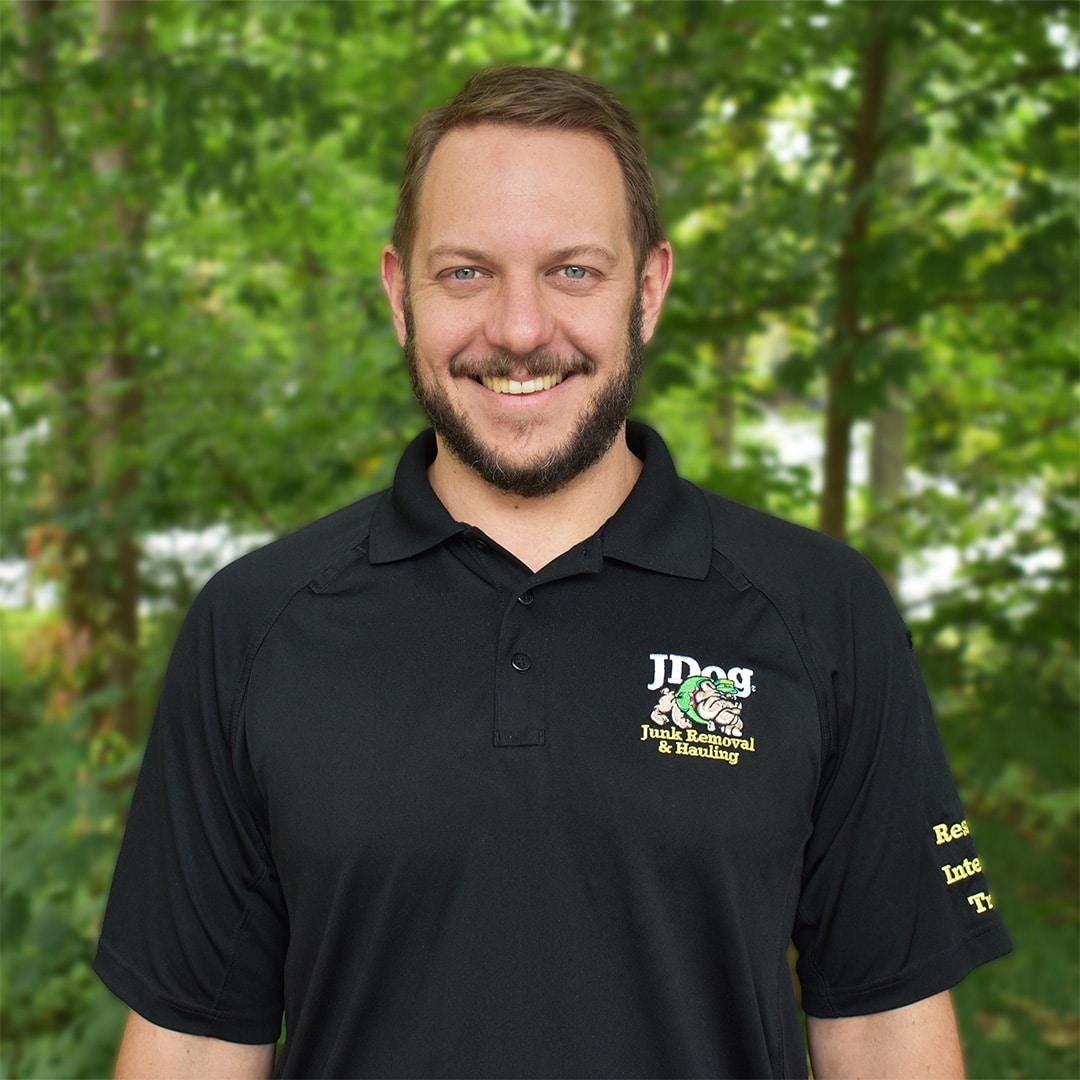 Kevin Kopa
President and Chief Operating Officer – JDog Junk Removal & Hauling
Kevin brings 10+ years of leadership and operations experience to his role at JDog. He is responsible for the operational strategy of the company and all franchisees. This includes helping a franchise prospect select and define a territory; implement technologies, systems, and support for all aspects of the business; negotiate contracts with preferred vendors and suppliers; measure results; and create and nurture a culture invested in continuous improvement.
Kevin served as a Squad Leader in the Marine Corps Infantry for six years, overseeing the training, health, and daily operations of his unit at home and during two deployments to Iraq in support of Operation Iraqi Freedom.
He earned a bachelor's degree in Professional Studies from West Chester University.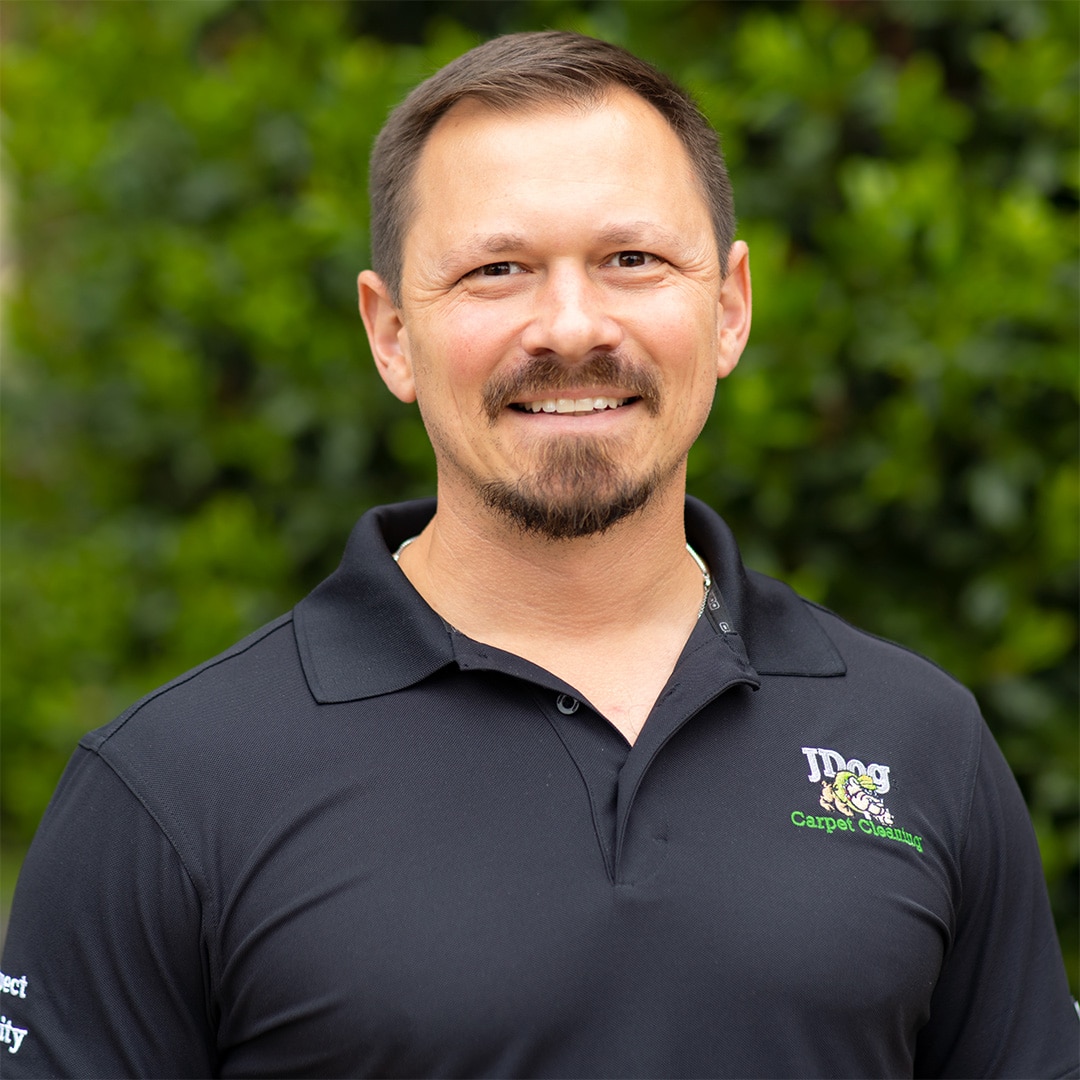 Chayse Roth
President & Chief Operating Officer – JDog Carpet Cleaning
Mr. Roth is a Military Veteran, having served almost 13 years in the United States Marine Corps beginning in 2001. Mr. Roth graduated boot camp in August 2001 and then attended the School of Infantry where he was trained as a machine gunner. He then served with 2nd Fleet Anti-terrorism Security Team (2nd FAST) from 2002-2004, during which time he deployed to NAVCENT with two missions into Iraq. Mr. Roth subsequently served a tour in Iraq with 3rd Battalion 2nd Marines. Upon returning from Iraq in 2005, Mr. Roth checked into what was to become Marine Forces Special Operations Command (MARSOC). As a Marine Raider, Mr. Roth deployed to Tajikistan, Pakistan, and Afghanistan twice. Mr. Roth's Military awards include the Joint Meritorious Service Medal, Navy Achievement Medal with combat distinguishing device, and Combat Action Ribbon (two awards). Mr. Roth and his wife decided that it was time for a career change following his last rotation to Afghanistan as they had a beautiful little girl at home that wanted her father around. Mr. Roth left active duty as a Gunnery Sergeant in December 2013.
Following his Military service, he began a consulting business providing military-style vulnerability assessments and awareness training. He also began working at the Marine Raider Training Center (MRTC) as a Subject Matter Expert (SME) in advanced skills. Mr. Roth earned a Bachelor Degree in Emergency and Disaster Management from American Military University in 2015 and immediately began working on an MBA at the University of Mount Olive.
Mr. Roth shut down his consulting service and began looking for a new opportunity. He partnered with his brother-in-law and purchased a carpet cleaning and restoration company in Wilmington, NC in the spring of 2015. Mr. Roth then ran his new company while continuing to work at the MRTC and working double full time on his MBA. He completed his MBA in the summer of 2016.
Mr. Roth opened a coffee shop as a family venture in 2017 after finishing graduate school. The coffee shop was sold in 2018 and Mr. Roth decided it was time to grow his carpet cleaning company by franchising. He had developed a system that was working efficiently and wanted a way to help other veterans become business owners as a way to help them with the difficult transition to civilian life. Mr. Roth had seen what JDog Junk Removal was doing for veterans via franchising and reached out to Mr. Flanagan of JDog for advice. Mr. Roth is now working with the JDog team to launch a national level carpet cleaning franchise under the JDog brand.
Mr. Roth is currently on his third semester of a Doctor of Business Administration, Leadership Cognate, at Liberty University. He lives with his wonderful wife Olessia and amazing daughter Amadea in Wilmington, NC.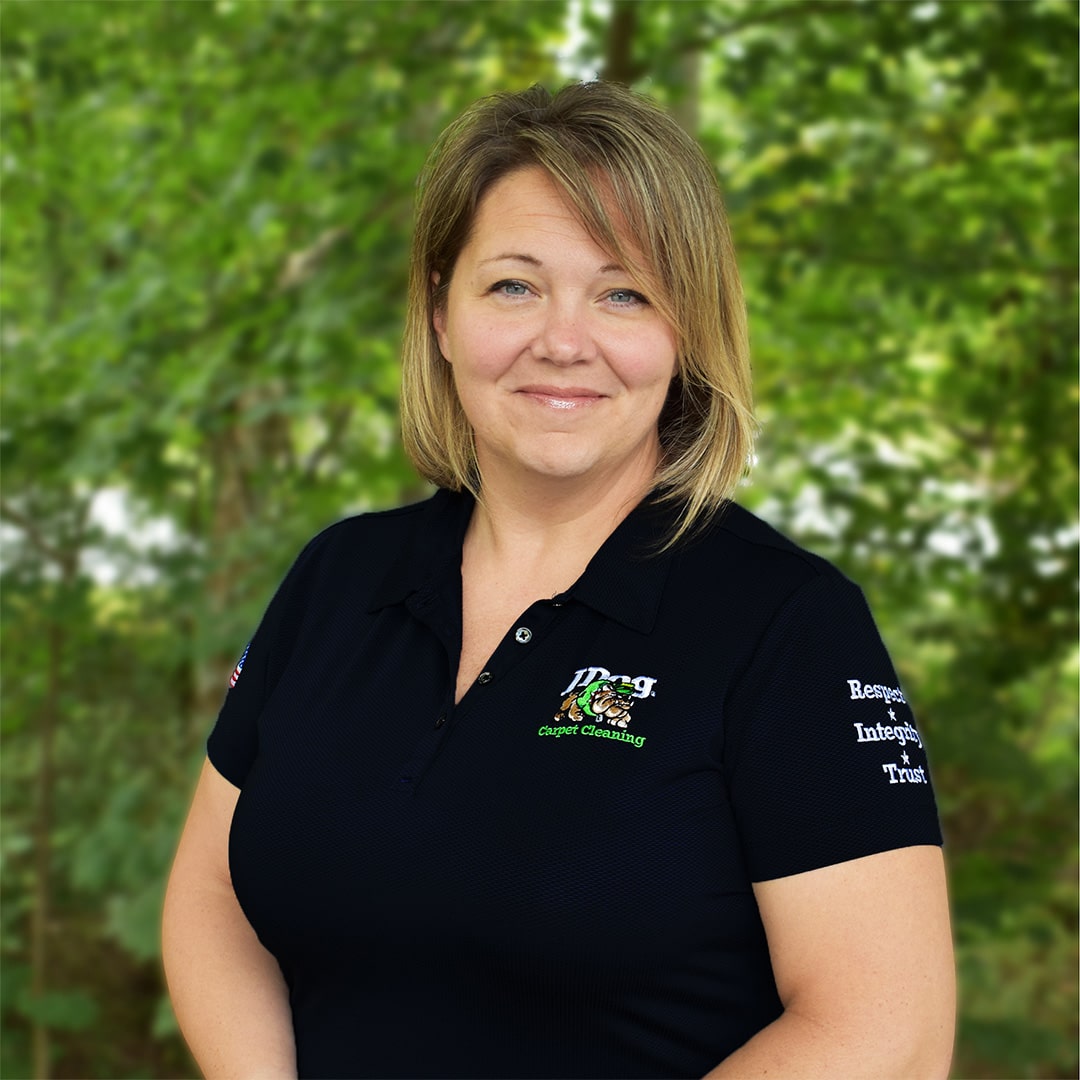 Dana Forester
Vice President of Operations – JDog Carpet Cleaning
Combining military service and private sector experience, Dana is uniquely positioned to help JDog Junk Removal franchisees jump start their businesses. She designed and leads JDog's training programs and serves as the day-to-day contact for all JDog Carpet Cleaning business owners as they prepare to launch their business. She continues to work with franchisees after they have opened, providing operational support and advising them on marketing, management, and growth strategies.
Dana belongs to a very small community of women who have served as a Munitions Systems Specialist, a predominantly male field. She was honorably discharged from the Air Force after four years of service, during which she served under the historic 8th Air Force Headquarters, 2nd Bomb Wing at Barksdale AFB in Shreveport, LA and at the 52nd Fighter Wing on Spangdahlem Air Base, Germany.
Dana comes from a strong legacy of military service. Most notably, her uncle, Ken Baldwin, served as an Army Paratrooper in WWII in the 101st Airborne, 506th Parachute Infantry Regiment, Easy Company, and was an original member of the 'Band of Brothers.'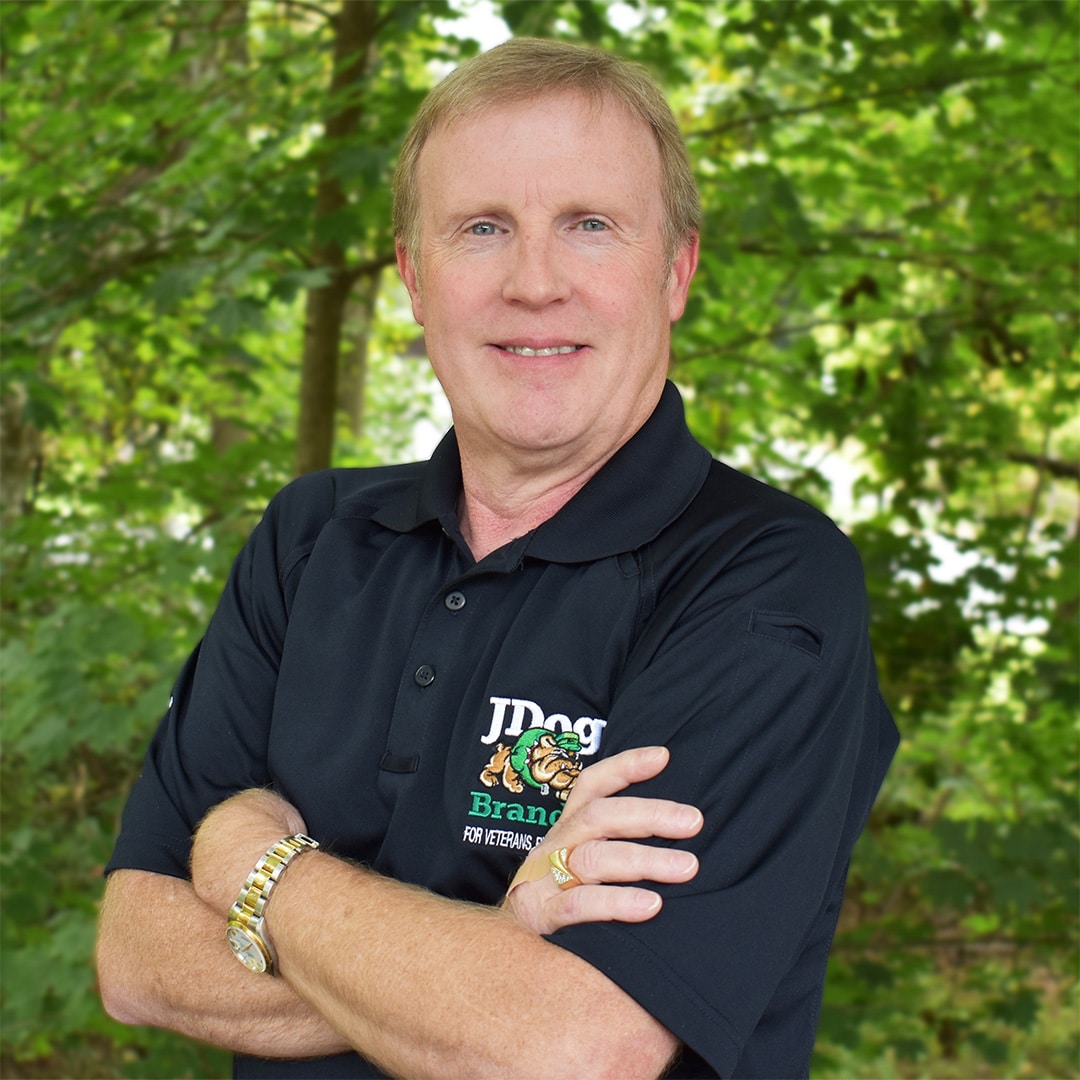 Terry Corkery
Director of Franchise Development – JDog Brands
Terry is responsible for the continued growth at JDog. His goal is to have a JDog franchise serving all Zip Codes throughout the United States.
Terry brings with him over 25 years of experience in the franchise industry in the areas of Franchise Sales, Development, and Real Estate. He has a track record of success working for franchise organizations ranging from new start-up companies to mature franchise businesses with over 1,000 locations. Terry also owned his own company for 15 years serving more than 750 franchisor clients to help market and grow their brands by identifying new potential franchisees for their system. He has been a speaker at multiple IFA (International Franchise Association) events and other franchise industry-related conferences and educational programs.
Terry's father was a World War II Veteran serving in the Army in both North Africa and Italy during the war. He is married to his wife Maria, they have 5 children along with 2 beautiful grandchildren.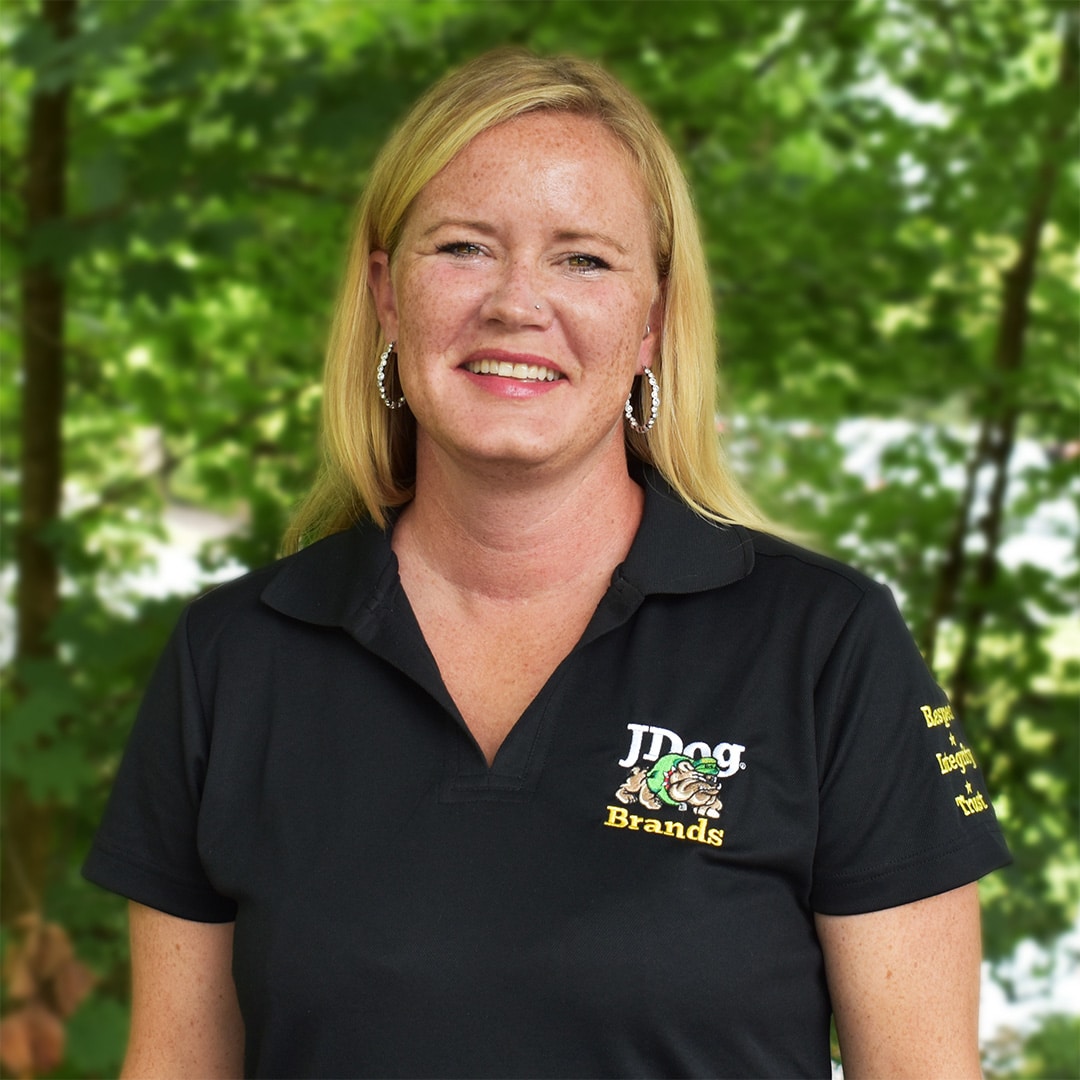 Dana Perry
Franchise Sales Coordinator – JDog Brands
Dana Perry is the Franchise Sales Coordinator at JDog Brands. In 2012, Dana got out of the Army after serving 12 years. During her Military career, she worked in logistics and as a recruiter. This experience makes her the perfect fit to qualify the franchise leads of her fellow Veterans.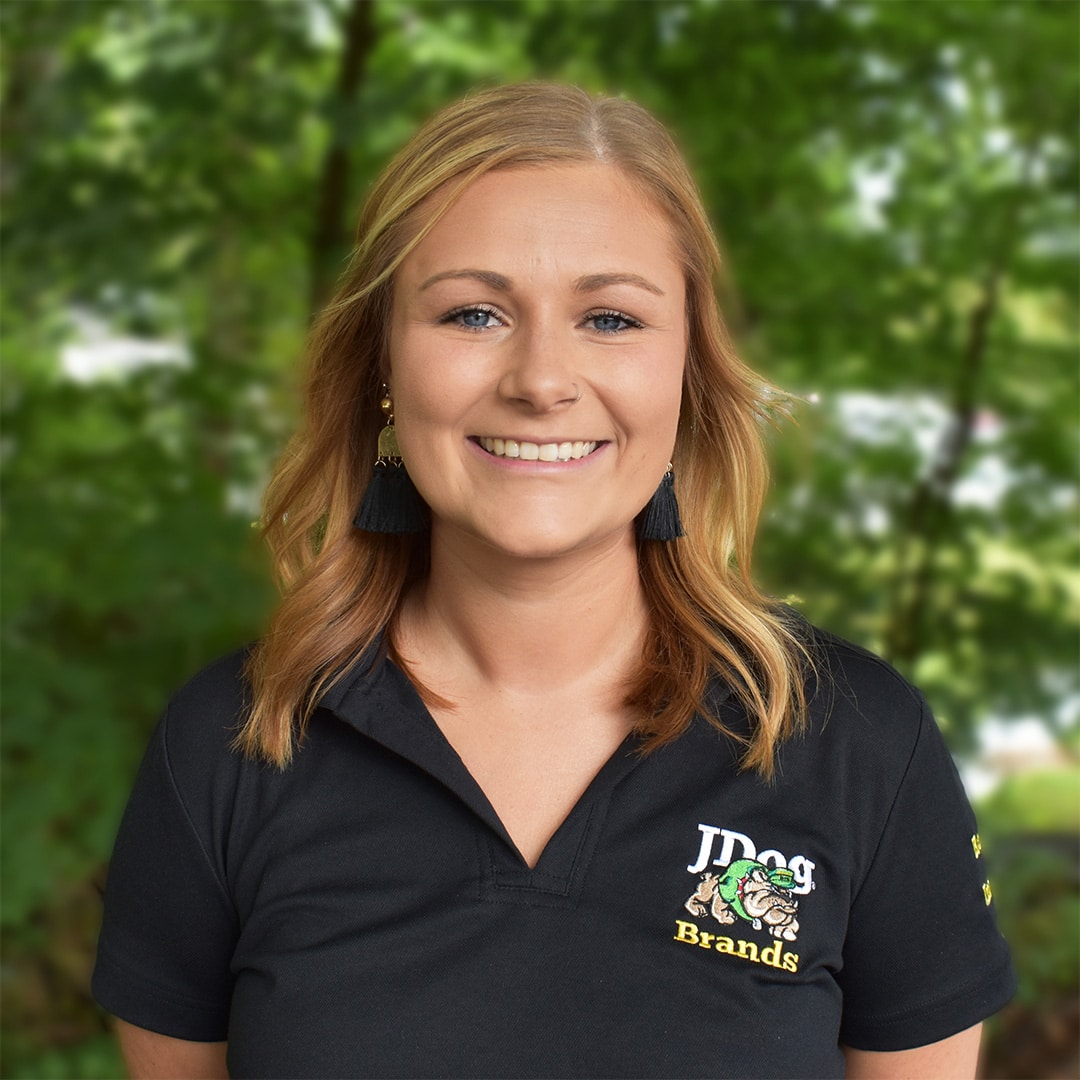 Maddie Seiler
Marketing Manager – JDog Brands
Maddie Seiler is the Marketing Manager at JDog. She contributes to the marketing department with graphic design, public relations and social media. In May of 2016 Maddie graduated from Millersville University with a B.S. degree in Speech Communication with an option in Public Relations. After graduating, she joined AmeriCorps, completing her term of service with Lancaster Lebanon Habitat For Humanity in July of 2017. She then moved to the Philadelphia area to start her professional career with JDog. Maddie's maternal and fraternal grandfathers served in the Army, her uncle in the Air Force.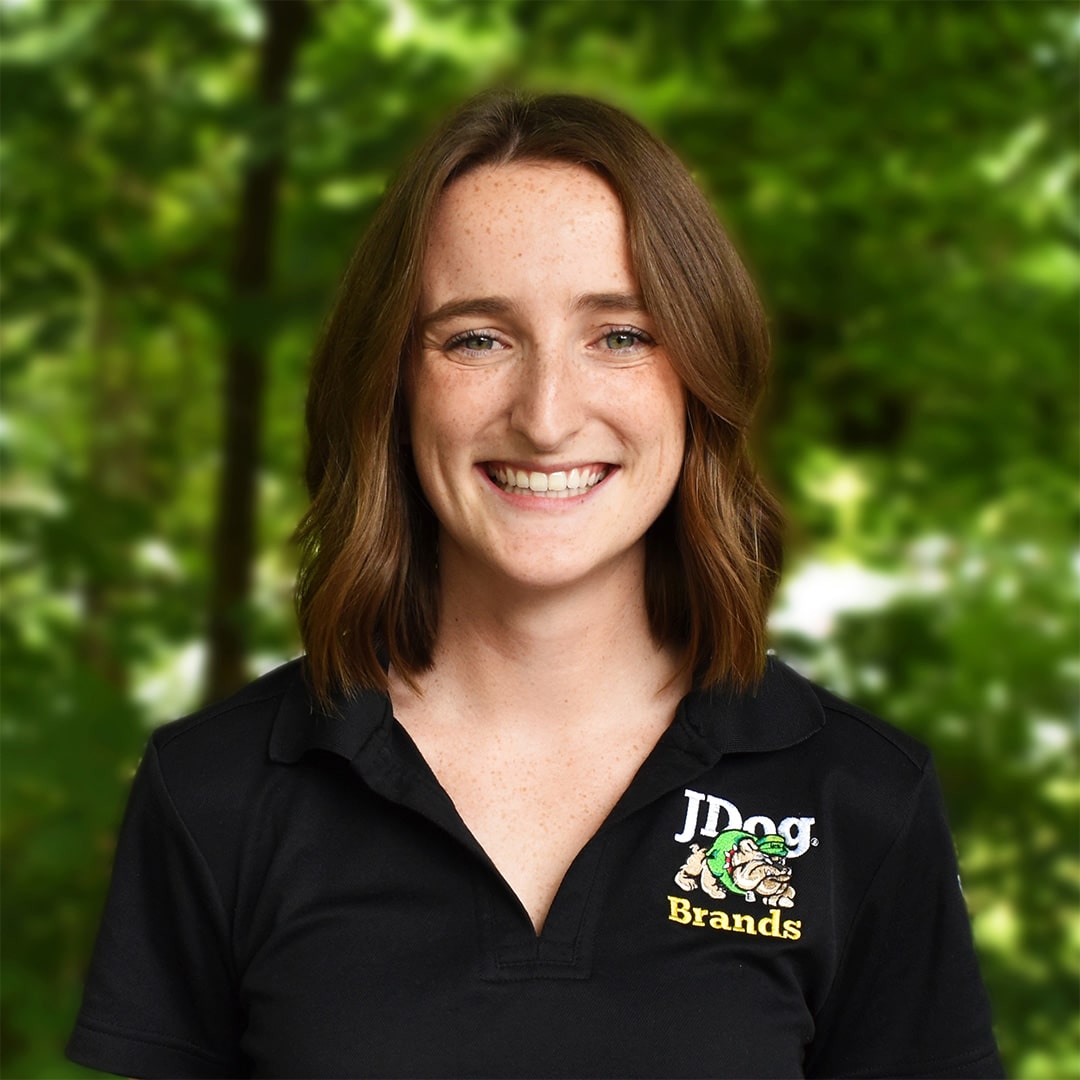 Kellie O'Brien
Marketing Coordinator – JDog Brands
Kellie O'Brien is the Marketing Assistant at JDog Brands. She has previously held internship positions locally and abroad, specifically with JDog Brands. These experiences have led to her expertise with video production and social media. Kellie is a 2019 graduate of Saint Joseph's University and has a degree in Communications. Both of Kellie's grandfathers served in the Coast Guard.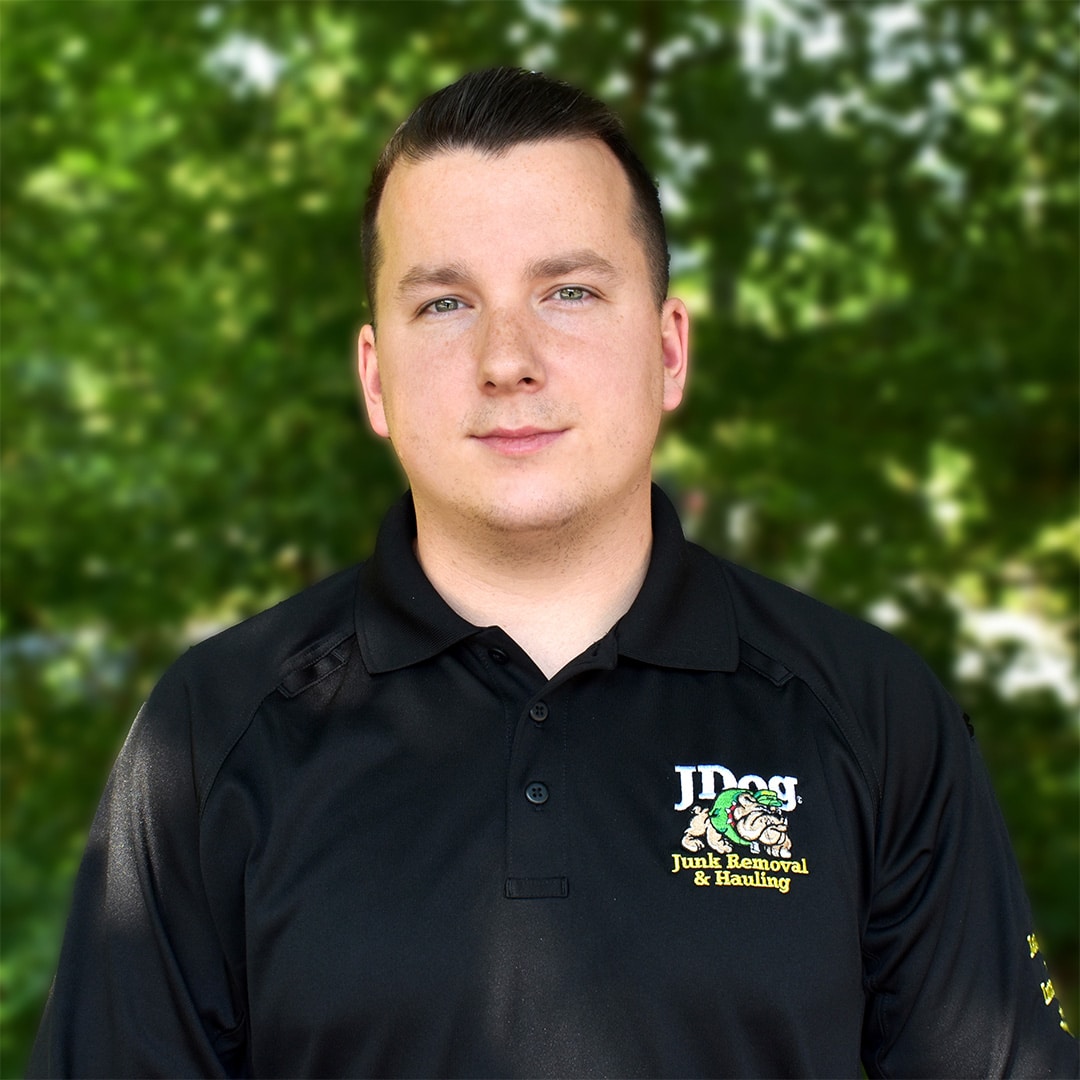 James Caudle
Director of Franchise Operations – JDog Junk Removal & Hauling
James brings 3 years of hands-on junk removal experience along with 5 years of sales experience to his position at JDog. Throughout his career, he has worked for two JDog franchisees as well as a competitor in every level of leadership.
James was in the Army Reserves for 6 years, where he served in the Military Police. He was assigned to the 744th MP battalion as a squad leader.
Both of James' grandfathers serviced in the Army, as well as his Uncle who served in the Navy.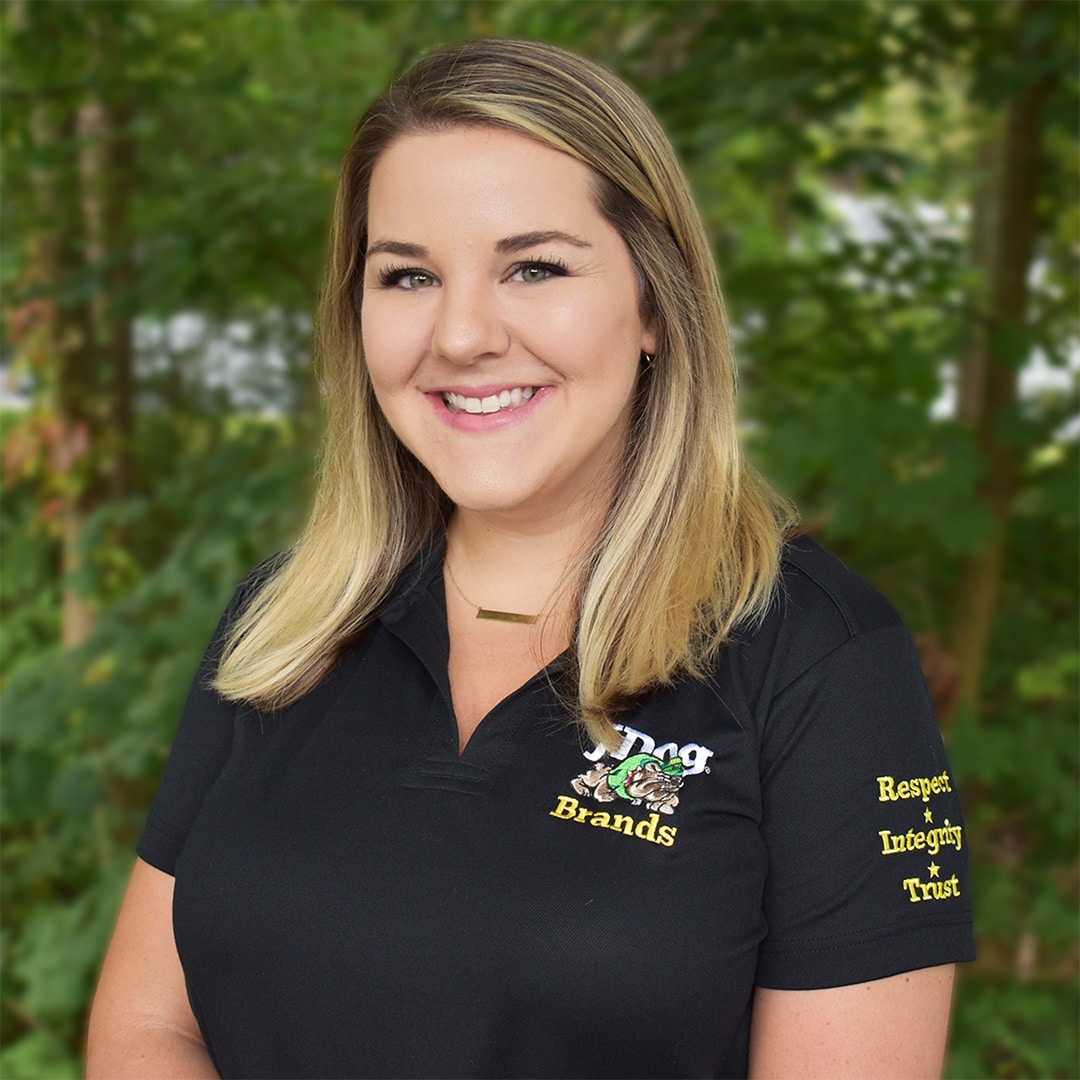 Katie Miller
Franchise Relationship Manager – JDog Brands
Katie Miller comes to JDog with 10+ years administrative experience. Her history of supporting executives of all types lends perfectly to her ability to support our franchisees while they grow their businesses. Katie comes from a Military family, with family members that have served in the Army, Navy, Marine Corps, and Air Force.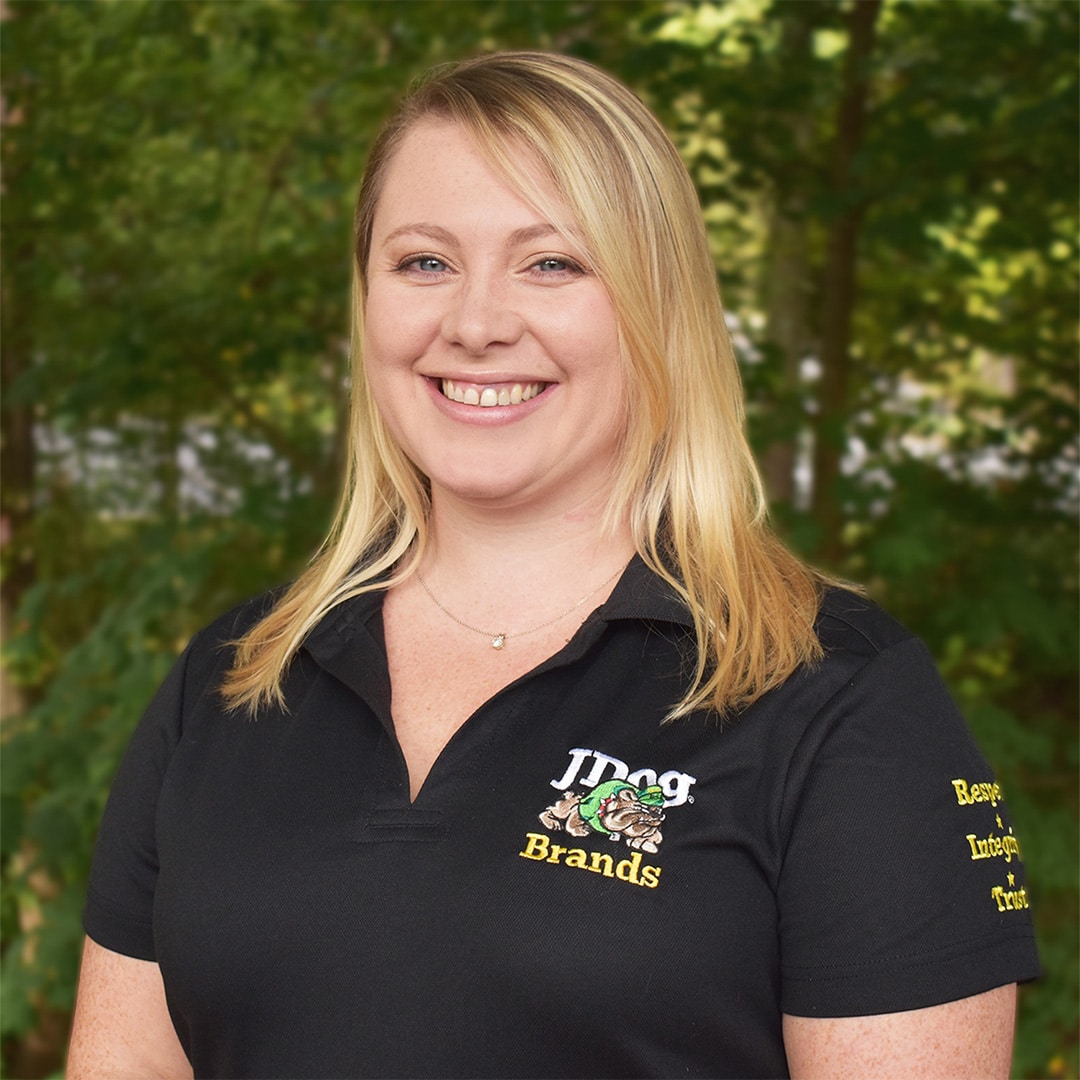 Dolly Morrison
Franchise Relationship Manager – JDog Brands
Dolly Morrison is one of the Franchise Relationship Managers a JDog Brands. With 12 years of experience at multiple Philly Pretzel Factory locations, Dolly has gained a wealth of knowledge for franchise operation and administration. Dolly's maternal grandfather was a Military Veteran and her cousin currently serves in the U.S. Navy.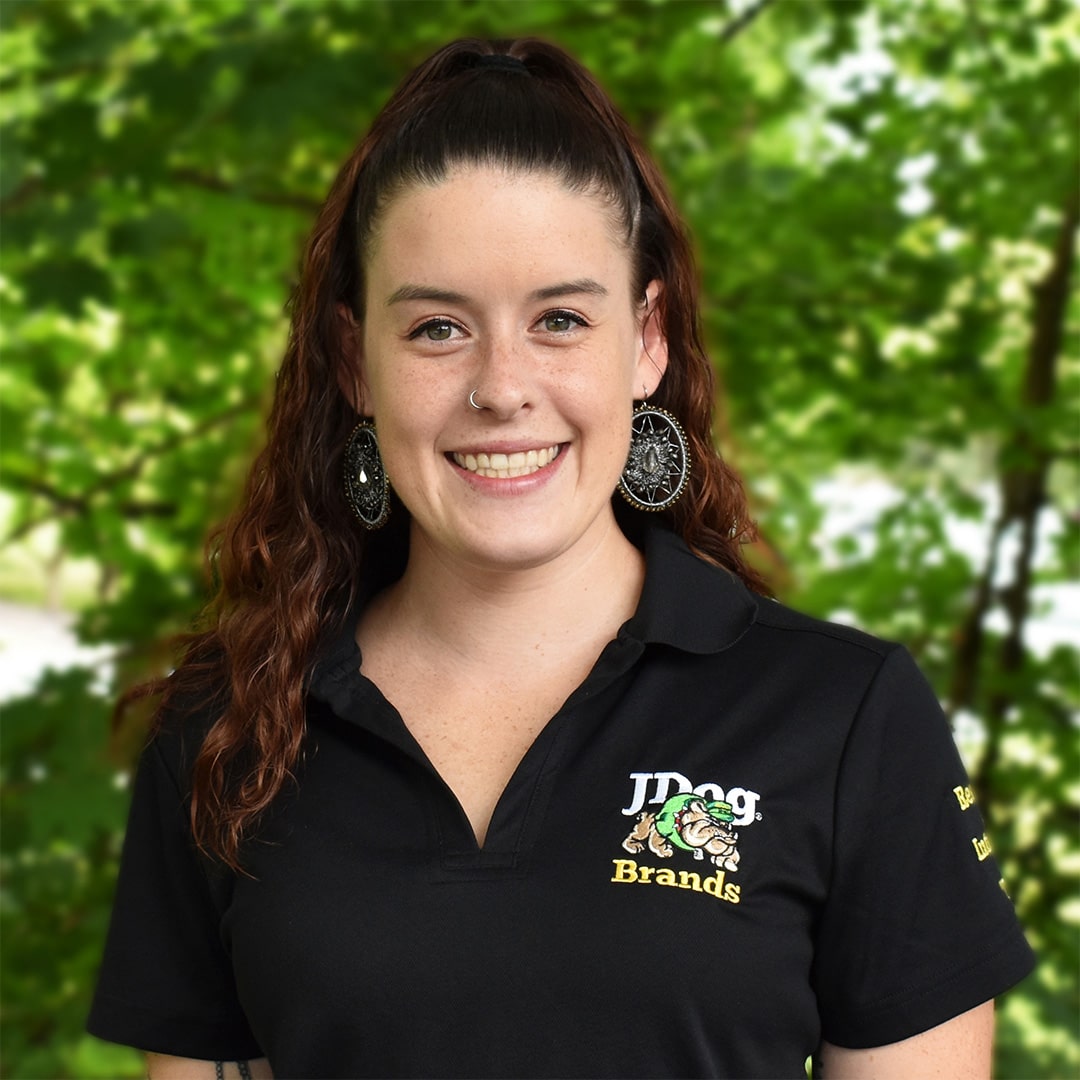 Sarah Horning
Corporate Services Coordinator – JDog Brands
Sarah has served in the Army Reserves for the past 8 years and continues to serve today. She comes from a proud Military family – both her grandfathers and cousin served in the Army and her grandmother served in the Navy. With over 7 years in customer service, Sarah has extensive experience answering phone calls, managing inquiries and communicating with customers.
---